Thysa and Wijnand
are going vanywhere…
and renovating a house in Polopos, Spain
to open 'Casa 3: Art, Coffee and Guesthouse'
Polopos, Andalucia, Spain. After two years on the road in their van James traveling artists and culinary explorers Thysa Zevenbergen and Wijnand Boon have found the perfect location for a guest house where artists can work, find inspiration and meet other artists.
Casa 3: Art, Coffee and Guesthouse will also be open for non-professional creatives. A holiday filled with inspirational excursions, workshops and the time and space to paint, write, cook and grow.
The Alpujarra is an amazing region that offers plenty of opportunities for long hikes, tranquility and cultural and culinary explorations. Smack in the middle between Granada, Malaga, Almeria and the Sierra Nevada mountain range, Casa 3: Art, Coffee and Guesthouse is located in Polopos, a quiet, white village overlooking the mediterranean sea at 800 meters altitude.
While we continue working on our video's, artwork and books we are also building Casa 3: art, Coffee and guesthouse in Polopos.
Say what?
This dish has absolutely nothing to do with pesto, but is a Spanish variant of the better-known French ratatouille (but with just a little more olive oil). A light vegetable dish ideal as a summer meal or as a side dish with meat or fish. We have served it here with a roasted chicken from the market. Video created for the NKC.
In this third and final episode of the hunting with Eduard series of On the Road & in the Belly, Eduard van Adrichem opens us up to the wonderful world of flame-grill.
In our second episode hunter Eduard takes us on a foraging trip and shows us how to fillet a duck. All in his characteristic manner of course.
We will be on TV! Aaaaaaaaaaaahh! 😎😎😎 21:30 July 1 on RTL4: 'Het Spaanse Dorp: Polopos'! #vanywhere is in #hetspaansedorp #vanlife #artistinresidence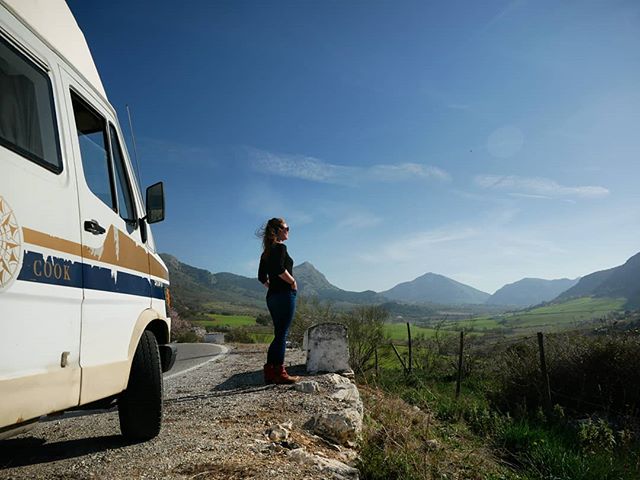 Always another horizon to explore, and another one, and another one. ••• We had no way of knowing where we would end up when we set out in our van James two years ago. We knew we wanted more time to be creative and more opportunities to explore and we worked hard to achieve that. ••• We are settling down again now, but only because we found the perfect spot to give other artists the time and opportunity to work and explore. It feels like we've come full circle. ••• We will keep on exploring in our van James and make cooking video's. But there is a whole lot of house building and renovating going on as well. #vanywhere is in the south of Spain. #artistinresidence #costatropical #vanlife
The eagle has landed! °°° We have bought a house! Waaaaaaaaaaaaaaaahht! 🤯🤯🤯 We are working hard renovating a house in the mountains along the Costa Tropical in the south of Spain. We are opening an artist residence and guesthouse, hopefully already this summer. More news soon! #vanywhere is building the dream #artistinresidence #costatropical
#vanlife is a lot of #vwvan and some others. We like being rare and exclusive. But parking up to a bigger brother of our van James or any other family member is like finding a kindred spirit and we are happy to temporarily sacrifice our uniqueness for that feeling of likemindedness. Especially when it happens in a tiny village 800 meters above sea level. #vanywhere is not alone 😍😍 #benz #mytribe
First #vanlife cooking #vlog is live! @nkc.nl you can find the link in their bio. All in Dutch 😬 🍅🍆🥒 'Pisto Andaluz' on the Costa Tropical at La Mamola, prepared by @thysart! #vanywhere is cookin' 😎 #lamamola #costatropical #cookingvideo Recipe credits go to @ffdunlop
The Buena Vista Cooking Club! 😍😍😍 Cooking on the Costa Tropical for our On the Road & In the Belly vlog for @nkc.nl 🥒🍆🍅 The views along this coastline are amazing. After shopping for groceries in La Mamola at the open air market on the beach, we parked our van James next to this gorgious little bay. @thysart cooked us a delicious 'Pisto Andaluz' and topped it up with a grilled chicken. 🍗🍗🍗 The vlog will be up this Friday so stay tuned if you are interested in #vanlife #cooking !! #vanywhere is cooking mediterranean on the #mediterranean #costatropical #lamamola Recipe credits go to @ffdunlop from @andaluzfoodandtravel
Even a rubber tramp has to do shoe maintenance every now and then... ••• We have been off the radar for a while and we can't just yet share the reason. But man, are we on a roller coaster. It is so hard not to say anything, but we really can't, so please stick with us. We will share asap... ••• We can share with you that our first travel/cooking video for @nkc.nl the Dutch Camper Club will be online this Friday! More on that later this week. #vanywhere is off the grid but very much on the road and loving it! 🤐😎 #vanlife #offthegrid
The trailer for @thysart 's childrens book is live! 🍾🤩🦊🎉 Every #illustration is cut from paper. The story is about Little Fox. She is a happy fox, but one night she can't sleep and wonders about other lands and places. Would she be happier there? Join Little Fox on her journey to 'Anywhere' and find out what she learns about happiness. 🦊 Please like, share, comment and buy! 🙏🏻 It is only available in #Dutch at the moment, but the artwork alone tells the whole story 😉 #vanywhere is proud, stoked and feeling awesome!!!!!!!! #vanlife #artist #cutout